Mistress Onyx - Entertainment Naughty News
Thursday, February 2, 2011
Masuimi Max
is one of the most enduring successful fetish models in the world. It is no longer very rare to see a beautiful girl strut her stuff in one rubber or corset or bondage photo layout, but to do it so well and in so many ways for so long — it must be
Masuimi Max
! Who else has graced the covers of
Skin Two
,
Marquis
,
DDI
,
Bizarre
, and a host of other magazines where not every model showed off her kinky side, but
Masuimi
did. Her long-running web site I Am Trouble is even named like a pinup bad girl. Members get everything from elaborately shot photo sets to cam shows of
Masuimi
showing off her exercise and makeup techniques.
continued..
Via
FetishBeauty.com
Posted by
Mistress Onyx
Some women are hot and some go that little bit extra to blow our minds. This woman is so hot that if I ever meet her as Janet says.. well it just will lead to seat wetting
.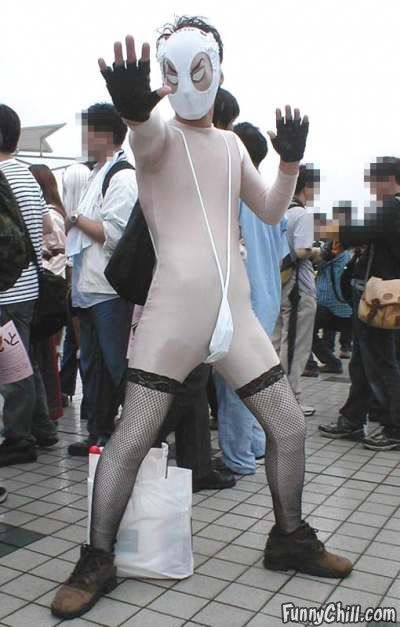 Female superhero costumes are the comic industry's "No Cooties" signs: They prove that the people who designed them think about girls (a lot) but don't really know how they work and are making sure...
Continued..
Via
fetdev.com , Cracked.com
Posted by
Mistress Onyx
That's right you nerds in space lovers with thigh-high stockings fetish. This photo is for you!
The photo has nothing to do with the article but I loved it. I always liked Storm. She was awesome in her costume. I thought "fuck I have to wait till my hair turns grey to be a Superhero? Well no, now I just beat men for kicks and tell them to send me all of their money. I call the money mine because well it is. Now isn't that kind of Superheroish in some way? No wait, I think that was the Villans thing. Well I am good at being bad so the shoe ALWAYS fits me.

NEW YORK, NY—The Miss Rubber World 2012 competition, presented by FetishMovies.com, currently has eight out of the ten contestant slots filled. The competition will be held during the New York Rubb...
Continued
Posted by
Mistress Onyx
The photo is from last years winners blog Miss Rubber World 2011, Archean At first I had imagined a show similar to a bodybuilding show. Instead of being just oiled up under hot lights The Miss Rubber World contestants would broil inside of sexy rubber second skin. Just hot girls sloshing around in rubber booties. I am sure come to think of it that is a fetish. Bagging up your feet so that they get good and wet. Then the slave licks your feet and the inside of the baggies clean. Hmmmm yes I have an imagination and no this is not that kind of show.
This week I had the privilege of being given a pass to Nottingham's one and only
Goddess Zena's members site
which is populated with some thoroughly stimulating content! The site itself consists of over 75 films and a number of photo sets. I shamefully admit I did download more of Goddess Zena's films then I would normally as I liked the intimate feel, soft sexy voice and firm sternness are indeed a very appealing combination.
Continued
Via sinsearch.com
Posted by
Mistress Onyx
Mmmmm .... hmmmmmm... I have spent a lot of time on her page. Yes a lot of time.
After the amazing Halloween event @ The Coronet Theatre, TG returns to it's spectacular new 2000+ capacity venue for their headline Valentines Ball. It's almost certain to sell out so buy a ticket!!!
7 Fully Themed Fantasy Environments to Explore!!! Carousel of Love - Theatre Arena:
Funfair Themed Decor
DJs: Larry Tee + Allen TG + Jimmy Mofo + David TG + Rockit Riyad
Electro, Electro House, Dub Step, Booty Breakz, Ghetto House, Drum n Bass
Neon Love & Hate - Ballroom:
Red Light Sex Doll Decor
DJs: The Roustabouts + Joe Black + Lydia Darling + Hitman Hearn + The Secretary
Burlesque, Neo Swing, Dark Kabaret & Gypsy Punk to Glamour Trash, Electro & RnB Mash-Ups
Hospital Love - Playrooms:
Medical Slaughterhouse Decor
Hospital Beds, Body Parts & Medical Play Equipment
Ambient Erotica & Electronica Soundscapes
Love Hurts - Dungeon Arches:
SM & Play Equipment by Play Penz
Music: Atmospheric, Ritual, Dark Erotica
Continued
Via
fetishfreedom.co.uk
torturegarden.com
Posted by
Mistress Onyx
I have always wanted to go to these types of parties. It is so nice to be an adult. Doing whatever we want dressing up in rubber and humping a rubber furry (?).
Onyx,
https://twitter.com/MistressOnyx
https://twitter.com/PayMistressOnyx